Pre-Order – Allow you to buy your favorite model of handbag with discount 20-25%
We keeping IN STOCK huge amount of different wallets and belts may to say small items. You can explore our WOMENS and MENS collections and pick wallet or belt what you like, add to cart, make payment and we will send your order.
Now we can't afford to keep in stock variety of crocodile skin handbags and physically some of handbags OUT OF STOCK.
We offering PRE-ORDER service, which can help you and safe from 20 up to 25% from the price of the product, what shown on our website.
What other bonuses does PRE-ORDER give?
1- You can change the color of the product (from the colors of the crocodile skin available in stock) If you asking what colors can be? Just look on the colors of our wallets collection.
2 - You can change the texture of the product, for example, a sports bag made from horn-back, but you would like to have gym bag from the belly part, and everything is possible if crocodile skin necessary size, texture and color in stock.
3 - You can change the color of the fittings, for example, represented handbag has stainless steel fittings but you would like to order handbag with fittings gold color.
4 - You can change size of the handbag this is very rare case the changing size of the bag, for example: You like the Birkin handbag represented handbag has wide 30cm, but you would like 35cm. I want noted that this case is only possible if such a bag model exists at the factory.
5- You can choose matte or glossy finish on the product what you like more.
How this is works: Let's consider on gym bag CROCODILE SKIN DUFFLE BAG 916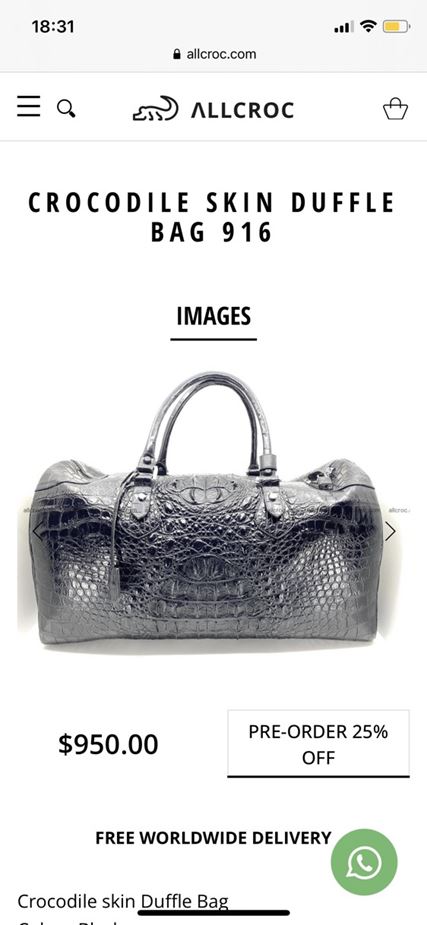 Steps of PRE-ORDER
1 - You place a pre-order
In the pre-order window, write your name, your email, phone number with WhatsApp and leave a comment, for example, about color and texture.
2- After receiving of your Pre-order and checking of stock of crocodile skin we will be back to you in WhatsApp or Email. We will confirm, what Crocodile skin of necessary texture and color in stock and term of manufacturing of your order is 6-8 weeks, usually its happen faster, but better to expect longer term in this case short term will be a pleasant surprise.
3- Payment we prefer use PayPal.
Terms of payment will considered on the price of Crocodile skin Gym bag.
Regular price - $950 -25% (Pre-order discount) = $712.5
Down payment- 50% - $ 356.25
Final payment- 50% - $356.25
Please notice what exact amount of discount 20 or 25% will be depend from availability crocodile skin in stock.
Manufacturing process will start down payment.
Final payment after your order will be finished and before shipping.