You can get wholesale price from 6 (six) items details and prices here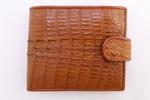 10.07.2018
Crocodile skin wallet 353
Genuine crocodile Caiman skin wallet with halt belt and coin compartment. For producing of wallets of this model used high-end leather manufactured skin of crocodile Caiman. Used part of crocodile hide is tail part. Wallets of this model will be loved by those of you who prefer wallets of small size with good capacity with coin compartment and strap belt with button.
Read more...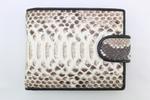 10.07.2018
Python skin wallet 355
Genuine python skin wallet US. For manufacturing of this wallet used high-end leather manufactured belly part of hide of python skin.
Internal filling
3 cards compartments
2 sides pocket with access from middle part of wallet
1 coin compartment
2 compartments for banknotes
Material of lining is soft calfskin and cloth.
Read more...