You can get wholesale price from 6 (six) items details and prices here
Stingray skin handbag 379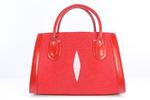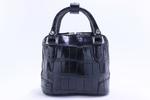 11.07.2018
Siamese crocodile skin handbag 378
For manufacturing of this handbag used genuine Siamese crocodile skin. Model of this crocodile handbag will be loved by those of women who prefer small size handbags. For producing of this crocodile handbag used high-end manufactured skin of Siamese crocodile. All parts of handbag such as main and back surfaces bottom part, handles are made from whole piece of belly part of Siamese crocodile. The belly part of Siamese crocodile skin is most rare and expensive skin in the whole world. Inside of handbag made in one volume. On inner side of handbag located flat pocket with zipper. Lining material is soft calfskin.
Read more...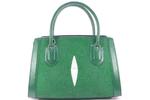 11.07.2018
Stingray skin handbag 380
For manufacturing of this handbags used high-end manufactured genuine stingray leather. Handbag of this model will appeal to those women who prefer handbags of average size with good capacity. On main and back surfaces of this handbag we can clearly see white eyes this is typical ornamentation of goods from stingray skin. Handbag inside made from one volume. On inner sides of handbag located pockets 2 pockets with zipper and 2 pockets without zipper. For greater flexibility and elasticity sides parts are made from soft calfskin. lining material is soft cloth.
Read more...