You can get wholesale price from 6 (six) items details and prices here
Stingray leather women's handbag 390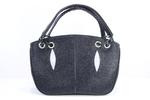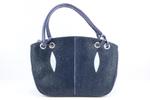 11.07.2018
Stingray leather women's handbag 389
For manufacturing of this handbags used high-end manufactured genuine stingray leather. Handbag of this model will appeal to those women who prefer handbags of average size with good capacity. The distance from the top of bag up to the handle is enough for carry this handbag as in the hands so on the shoulder and on the forearm. On main and back surfaces of this handbag we can clearly see white eyes this is typical ornamentation of goods from stingray skin. This handbag doesn't have certain main surface what allow to use this handbag both on the left and on the right hand. This handbag consists of two compartments. Each one compartments has a zipper lock. Inside of compartments located convenient pockets, flat side pocket and pocket with zipper lock. Lining material is soft cloth. For greater flexibility and elasticity sides parts are made from soft calfskin.
Read more...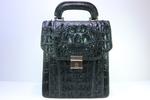 14.07.2018
Crocodile skin messenger bag braided edges 139
Genuine crocodile skin messenger bag for men. For manufacturing of this bag used genuine crocodile hornback strips of hide of Siamese crocodile. On the front of the bag located upward opening flap decorate by texture nape of hide of Siamese crocodile, back side of this bag made from textured hornback of Siamese crocodile. All seams and outer edges of this bag are braided by handmade. At the top of bag a zipper is sewn. By flat pocket with zip interior volume of bag divided into two compartments. Inside of bag located compartments for pens, phone and other necessities. Inner trim of bag made from black color cloth. Adjustable by length, detachable shoulder strap with braided outer edge at set.
Read more...