You can get wholesale price from 6 (six) items details and prices here
Crocodile skin wallet 237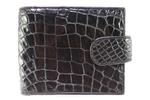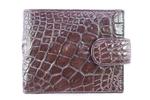 10.07.2018
Crocodile skin wallet 236
Wallet from genuine crocodile skin (Siamese crocodile skin). For manufacturing of wallets of this model used genuine skin of Siamese crocodile. Wallets of this model are equipped half belt and coin compartment. Each one wallet has the unique texture. On the front and back sides of wallet we can clearly see unique texture of genuine crocodile skin. On back side of wallet the convenient pocket is arranged. Inner filling of the wallet: 2 two compartments for banknotes Double swivel transparent w
Read more...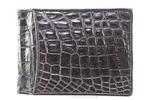 10.07.2018
Crocodile skin moneyclip 238
Genuine Siamese crocodile money clip
Color – black
Dimensions
Width - 11.5cm
Height -8.5cm
Thickness -1cm
Crocodile money clip from genuine Siamese crocodile skin. For manufacturing of this models of money clip used original crocodile skin. On each one money clip we see a unique texture of the crocodile skin. On each one outer side of money clip an external pocket is arranged.
Inner filling of the money clip:
6 slots for cards
2 sides pockets
1 Money clip
The inner filling of the purse is made of calf skin
Read more...