You can get wholesale price from 6 (six) items details and prices here
Crocodile skin card holder 372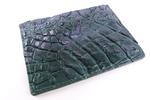 11.07.2018
Crocodile skin card holder 370
Genuine crocodile skin card holder. Card holder of this model is very convenient thing. Especially in case when you need to have with you only 2-3 cards and few banknotes. For example on vacation. Or this card holder will be loved by those of you who prefer minimalism style like: Id card, key-card, 1-2 bank cards and few banknotes - not over. For manufacturing of card holder of this model used high-end manufactured Siamese crocodile skin. As a lining material used cloth.
Inner filling
4 slots for cards
1 flat pocket for banknotes
Read more...
11.07.2018
Crocodile skin card holder 373
Genuine crocodile skin card holder. Card holder of this model is very convenient thing. Especially in case when you need to have with you only 2-3 cards and few banknotes. For example on vacation. Or this card holder will be loved by those of you who prefer minimalism style like: Id card, key-card, 1-2 bank cards and few banknotes - not over. For manufacturing of card holder of this model used high-end manufactured Siamese crocodile skin. As a lining material used cloth.
Inner filling
4 slots for cards
1 flat pocket for banknotes
Read more...