You can get wholesale price from 6 (six) items details and prices here

01.07.2018
Crocodile briefcase 292
The model of this briefcase is model of small size and will be loved by men who prefer briefcase of small size with average textured crocodile skin.
Crocodile briefcase made from genuine Caiman crocodile skin. On the front of the briefcase are located upward opening valve what decorated by natural unrepeatable texture nape of hide of Caiman crocodile. The back surfaces of this crocodile briefcase are made from texture hornback skin of Caiman crocodile. At the back side of this briefcase on the top is located convenient flat pocket. For greater flexibility and elasticity sides parts and bottom part are made from soft calfskin. Flat pockets on zip divided internal volume on three compartments. On front surface, under upward open valve, are located tilting valve which contained one big flat pocket .Material of the lining is soft cloth and calfskin. Adjustable, made from calfskin, shoulder belt at set.
Read more...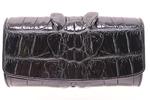 01.07.2018
Crocodile wallet for women trifold 281
Sale
Price now 105$ with worldwide shipping
Women's crocodile trifold, for manufacturing of this wallet used genuine crocodile leather, skin of Siamese crocodile. Used part is hornback of crocodile. Wallet of this model is most popular model of women's wallet in the whole world. On the front of the wallet, we clearly see the unique horn-back texture of the Siamese crocodileWallet created as a big trifold. Inside of wallet arranged; 12 cards compartment and one of them with transparent window 2 side pockets 2 compartment for a banknote
Read more...