You can get wholesale price from 6 (six) items details and prices here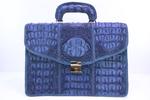 01.07.2018
Genuine crocodile briefcase 148
Mens briefcase from genuine hornback with braided edges. For manufacturing of briefcases of this model used genuine crocodile horn-back strips of hide of Siamese crocodile. On the front of the bag located upward opening flap decorate by natural texture nape of hide of Siamese crocodile. Back side of this bag made from texture hornback of Siamese crocodile. On the top of back side of briefcase located convenient flat pocket. All seams and outer edges of this bag are braided by handmade. The internal volume is divided by flat pocket with zip on two compartments. Inside of bag located compartments for pens, phone and other necessities. Inner trim of bag made from cloth and cow skin Adjustable by length, detachable shoulder strap with braided edges at set.
Read more...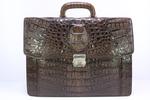 01.07.2018
Crocodile briefcase 287
The model of this briefcase is model of XXL size and will be loved by man who prefer briefcase of big size very textured and unique!
Read more...